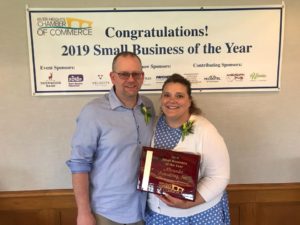 Allrounder Remodeling Inc. is honored and humbled to be presented with the Small Business of the Year Award for 2019.  The award was presented by the River Heights Chamber of Commerce during a ceremony on April 25, 2019.  Owners Ruth and Eric Bader were privileged to be joined by 8 key members of their team at the ceremony.
During the ceremony, Owner Ruth Bader said, "Thank you to those who nominated us, voted for us and the committee that selected us for this award.  It is a true honor to be in the same company as Point North and Yours Truly for Small Business of the Year.

Thank you to Shawn and Town Square Television for making the wonderful video showcasing our company.

We owe a lot to our Chamber community for our success. This involvement gives us greater opportunity to give back and be a benefit to our community as is one of our core values.

The Chamber allows us to be involved with local issues and gives us a platform to be introduced to other local business and supporting community members.

We could not do the work we do without our team. Many of whom have joined us here today. Thanks to Kevin, Craig, Jim, Todd and Jenny for taking time out of your busy day."
Press Release from the River Heights Chamber of Commerce:
"With all of the outstanding businesses in the community, the River Heights Chamber is excited to honor the following finalists: Allrounder Remodeling, Inc., Point North Networks, Inc., and Yours Truly Marketing Incentives, Inc., each one deserving of the 2019 title! Finalists were nominated their peers, the community participated in an online voting poll and the River Heights Chamber's Recognition Committee selected the winner.  The Small Business of the Year Award acknowledges an organization that has been in business for five years or more, has 20 or fewer employees, has at least two years of membership in the River Heights Chamber, and encompasses a business that has a commitment to the community through its involvement and assistance to community organizations, to its employees, suppliers and customer relationships, in addition to, a commitment to excellence in service, business ethics, friendliness and business operations."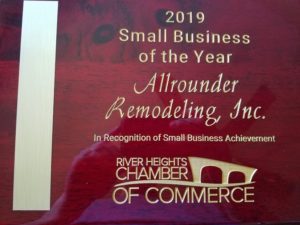 Allrounder Remodeling Inc. provides residential home design and remodeling services in the southeast Twin Cities metro area, including the cities of Apple Valley, Rosemount, Eagan, Mendota Heights, Sunfish Lake, West St. Paul, South St. Paul, Inver Grove Heights, Cottage Grove, Newport, St. Paul Park, Woodbury, Oakdale, and Maplewood.
For more information, please call 651-497-7715 or 651-497-7714; or visit http://www.AllrounderRemodeling.com