"Your price makes me feel like you are taking advantage of me."  That was the response from a past client who needed some new handrails for their stairway.  In their mind, it was only a 2-hour job.  In reality, there were several hours involved in this seemingly small project.
To begin, there is traveling to the home for a meeting.  During this meeting we will measure and discuss what is needed.  Next comes planning, texting, emailing, sharing information and ideas of what they're looking for. Trying to find a source for materials that match what is already in the home.  Then there is the time it takes to work up cost for materials, finishing, and labor for all of it. Submission of a proposal and discussion of scope and confirmation.  Note that at this point, we have almost 3 hours of work involved and have not yet picked up a tool.
Moving on to planning and prep for the install. Thought, design, and engineering of everything takes place. This is to decide the method of install and how things should be assembled to achieve the desired look. Then there is purchasing materials.  At the shop, there is cutting, assembly, sanding, and prep for finishing of all parts.  After that, hours of time for finishing. Staining, sealer coat, sanding, seal again, sand, finish coat, sand and finish coat again, done on all sides as these railing components are visible from many angles.
After all of this, there is coordinating install and the team. How, when, who, what's involved.  Will this be done in a finished space and require protecting existing surfaces and finishes?  We need to plan for that too. Organizing all equipment and checking to be sure everything is in order for the install.   What do we need to load up for this installation?  Answer:  Everything.  An arsenal of tools are needed for this seemingly small project.  After the job is complete, back at the shop we need to unload the truck and put away the tools and equipment.
In the client's mind, this was a 2-hour job, because that was all of the "visible" time that we spent with tools in our hands at his home.  In reality, small projects take more time than you may think and require the same level of planning as a large project takes.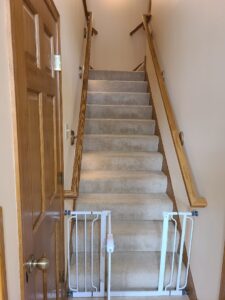 Allrounder Remodeling Inc. provides residential home design and remodeling services in the southeast Twin Cities metro area, including the cities of Apple Valley, Rosemount, Eagan, Mendota Heights, Sunfish Lake, West St. Paul, South St. Paul, Inver Grove Heights, Cottage Grove, Newport, St. Paul Park, Woodbury, Oakdale, and Maplewood.
For more information, please call 651-497-7715 or 651-497-7714; or visit http://www.AllrounderRemodeling.com